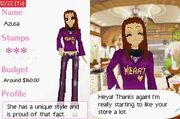 Azusa is a customer who comes to your shop

She has a meduim-small budget with a budget of $160-$880.
She (obviously) likes AZ-USA, but she also likes Mad-Jack and Alvarado. She also likes the color purple.
In Style Savvy: Trendsetters she appears again but instead has a girly taste instead and likes brands like Marzipan Sky.