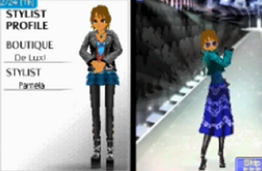 The Contest Hall is where you put your styling to the test!
All of the fashion contests are hosted by Roccoco and you will have to compete against other boutique owners by putting together an outfit for the concept of the contest.
The prizes for the contests are items from the very rare and expensive brand, Masquerade. Enter each contest once a week if you'd like to collect items for a certain outfit.
Beginner: Cowgirl
Bronze: Cat
Gold: Rose princess
Platinum: Classic Doll/Alice
International: Ninja, Magic girl/Sweet girl, Sailor girl
The Fairy Princess/Cinderella Masquerade outfit is the only Masquerade outfit you cannot obtain through a contest victory, you obtain it when it is your birthday (it's Dominic's present to you)
*NOTE: if your stockroom is full and you win a contest Rococco will send you prize money instead (the price of the item that would've been the prize)*
Before you enter the contest make sure you meet the criteria that is needed (e.g Beginner contest you need a 1 star ranking).
In the Beginner, Bronse, Silver, Gold and Platinum contests, Dominic arranges a model to meet up with you in the contest-the model is almost always a customer of yours so be careful that you are dressing the model to the concept and not what they'd normally wear.
In the Platinum contest, one of your competitors is Grace. With clever styling you can easily beat her.
The International Contest however, changes the concept every month depending on the season, trends etc. You are your own model for this contest and every character from the game (strangely Eunice doesn't show up) comes to cheer for you and wish you good luck. After winning the International contest, not only do you win a Masquerade item but you also win a Fashion Crown to show your victory (you can't sell it in your boutique).
After winning any contest, sometimes the next day a rival boutique owner comes to your store to
a) tell you that you've inspired them to do better
b) tell you that their going to win next time
Of course, you shouldn't let them get to you and what they say won't change the circumstances of the game.