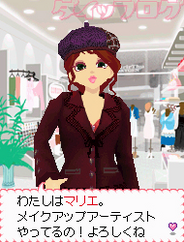 Olivia is the local makeup artist. You can visit her shop to buy make-up or change your characters eyebrows.
She also has a makeup magazine available with some suggestions and is a contributer to Aurora magazine available in her shop.

When she comes to your store as a customer on a day which she is not busy (often Thursday) she will ask for a full outfit. Olivia has a high budget allowing her to buy many items or more expensive items.
These are some brands she will buy from:
Olivia likes brands that exude elegance and poise as opposed to the diverse clothing preferences of the hair stylist Didi.  Olivia is also a close friend of Renee, the protagonist's colleague in Strata.
Olivia's Japanese name is Marie.