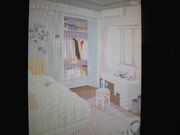 The apartment is where your character lives. Your apartment has a pale color scheme, with pink and beige accents. You cannot customize your apartment, unlike your boutique. If you look on the left screen where your avatar stands, if you look behind her you can sometimes see the rest of your apartment such as the dining table, window sill etc.
The options are:
My picks (choose your favourite items here-once you get back to your wardrobe, all of your picks will be at the top of the lists)
Info (Change your name and the in-game currency system)
My wardrobe (change your outfit-if you press the 'menu' button at the top you can reset your outfit, save 9 favourite outfits, change back to your most recent outfit)
Hair and makeup (do your makeup and if you press 'menu' you can choose to wear your hair up of down-this only applies if you have a hairstlye that can do so)
Album (save and delete up to 50 photos sent in by Libby)
Save (you can save here or unlock the save button in your boutique-obtained through Dominic's Mansion)
Sound (change the music and SFX volume)
You can also view the month's magazine and schedule.