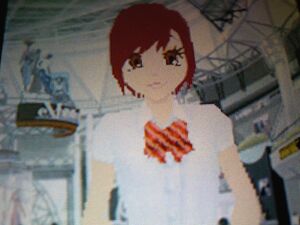 Penbridge is usually referred to as being "preppy" in Style Savvy. Many items feature plaid designs such as those popularized by Burberry, and other pieces resemble some school uniforms.
The description in the Buyer's Center/Exhibition Hall is:
Smart British heritage brand for plaid-clad preppies
Grace says that sometimes Penbridge remindes her of her old school uniform.
Use Penbridge in the following contest concepts:
In the Japanese version of the game, Penbridge is called "Terse".
Lynn is the brand rep for Penbridge.
​​Clothes
Edit
| Number | Name | Color | Price | Photo |
| --- | --- | --- | --- | --- |
| 02137 | Bow-front plaid camisole | Blue | $31.00 | |
| 04893 | Bow-front plaid camisole | Pink | $31.00 | |
| 01102 | Plaid-ruffle shirt | Black/Turqoise | $49.00 | |
| 01104 | Plaid-ruffle shirt | Black/Purple | $49.00 | |
| 00095 | Bow-tie dress shirt | Blue | $36.00 | |
| 13282 | Bow-tie dress shirt | Pink | $36.00 | |
| 13283 | Bow-tie dress shirt | White/Red | $36.00 | |
| 00319 | Bow-tie dress shirt | White/Orange | $36.00 | |
| 01597 | Bow-tie dress shirt | White/Turqoise | $36.00 | |
| 00323 | Plaid-collar polo shirt | Black/Brown | $41.00 | |
| 01616 | Plaid-collar polo shirt | Black/Blue | $41.00 | |
| 01618 | Plaid-collar polo shirt | Black/Purple | $41.00 | |
| 12371 | Plaid-collar polo shirt | Red | $41.00 | |
| 12372 | Plaid-collar polo shirt | Black | $41.00 | |
| 12373 | Plaid-collar polo shirt | White | $41.00 | |
| 12374 | Plaid-collar polo shirt | Blue | $41.00 | |
| 12375 | Plaid-collar polo shirt | Bright Green | $41.00 | |
| 12376 | Plaid-collar polo shirt | Yellow | $41.00 | |
| 12377 | Plaid-collar polo shirt | Salmon | $41.00 | |
| 12378 | Plaid-collar polo shirt | Purple | $41.00 | |
| 12379 | Plaid-collar polo shirt | Orange | $41.00 | |
| 12380 | Plaid-collar polo shirt | Navy Blue | $41.00 | |
| 12381 | Plaid-collar polo shirt | Brown | $41.00 | |
| 12382 | Plaid-collar polo shirt | Bright Blue | $41.00 | |
| | | | | |
| | | | | |
| | | | | |
| | | | | |