Terra clothes tend to be earthystyle fashions that utilize tie dyes or organic prints. Terra is Latin for 'Earth'. Terra's brand rep is called Skye. 
Terra's clothes follow the Bohemian, hippy style taken on in the 1960's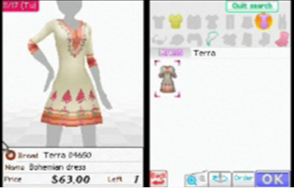 The description in the Buyer's Center/Exhibition Hall is:
Bohemian hippy-chic inspired by nature
Terra is the first store in the Buyer's center/Exhibition Hall where you will buy in the beginning of the game
In a contest with the theme Free Spirit, dress your model in Terra.
The Japanese name for this brand is ヒポポタマス/Hipopotamasu which is "Hippopotamus" in katakana.