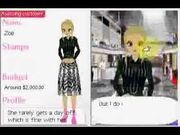 Zoe is one of the first customers you'll meet, in Grace's shop

She likes Alvarado, and not really much else.
She has a very high budget, around $6,000. She is a model, so she appears in Nuances, Milla, and Aurora.
She also models in fashion contests. According to her profile in Style Boutique it says she likes elegant things and owns 10 cats.